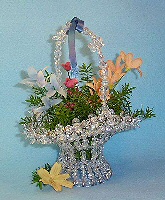 If you love to make crafts then this is the place for you. We have lots of free craft patterns and ideas for many craft projects including christmas craft patterns and free bead patterns with more patterns and topics being added daily.
Lots of new craft ideas along with some old fashioned and traditional patterns too.
You will want to bookmark this site and check back often for new additions.
We are also accepting patterns from the public. Contact us for more information.
Note: Please share your photos of crafts you finished using patterns on this site. I have more patterns that I can put on the site but I do not have any good photos to go with them.